3D Making the News 
We will post news as it happens.
  3D printing in space, yes it is being tested now, more inside this video.http://topdocumentaryfilms.com     /when-will-humans-live-on-mars/
Nano Sculptures – world's small art created using 3D printer. Artist Jonty Hurwitz has created the world's smallest sculptures: nanosculptures, created using a 3D printed photosensitive material, so small they can fit on the head of an ant, in the eye of a needle, on a human hair
Read more – http://3dprint.com/24892/nanosculpture-jonty-hurwitz/
3D printing will be a big subject at CES in Vegas this January and we will be there to report to you the latest. May meet some of you there.  Hyker
Additive manufacturing has become one of the fastest-growing printing processes in the 21st century – virtually making an object appear out of thin air by generating successive layers of material to create a three-dimensional product."from CES site" see below.
More info >>>>  http://www.cesweb.org/Show-Floor/Marketplaces/3D-Printing.aspx
NIH 3D medical print file exchange.  Learn about the NIH 3D Print Exchange and the exciting developments in 3D printing taking place at NIH. http://3dprint.nih.gov/            
Peachy Printer, a Kickstarter project is months behind on delivery.  Funding goal $50,000 pledged $651,091 from 4,420 backers.  They have more money and are trying to deliver a very enhanced version, we are waiting to see what happens here.  Will report when our unit arrives.
Tampa Hackerspace home to 3D printers.  Make magazine has spawned Maker and hacker spaces around the world and many have 3d printers,  Tampa has several.
http://tampahackerspace.com/2014/03/05/meet-our-new-3d-printer/
Cyclopital3D has new nylon printers in service and is making tougher products and will make your items as an expanded service.  http://cyclopital3d.homestead.com/Issue_13__September_2014.pdf
Peachy Printer wins overwhelming support on Kickstarter.  They were looking for $50K and got over $650K First $100 3D printer,
 View the Kickstarter here.
 

3D Printing at Burning Man!  Yes people brought printers, scanners and all to the Black Rock Desert in Nevada again.  Here are some videos we made.

3D printer converted to Drink Mixing Machine
3D Printer Expo in Chicago July 10 and 11, 2012,  perhaps I will see you there.  http://www.mediabistro.com/inside3dprinting/
3d Printing Store Opens for Business. http://blog.makezine.com/2012/12/21/diego-porqueras-on-running-a-physical-3d-printing-store/
Barack Obama mentions 3D printing in his speeches.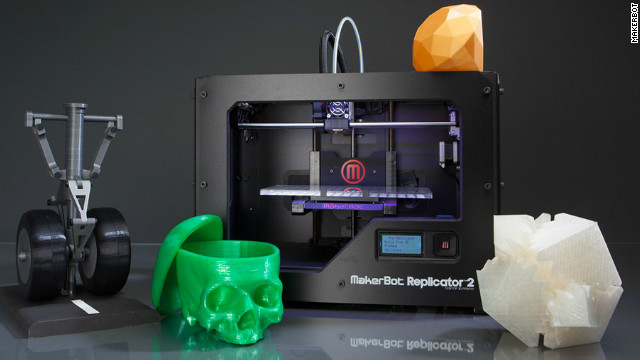 Here are some links-
State of the Union Speech    April, 14 2013  http://www.youtube.com/watch?v=Yw1jAdMgsW8
Talking to the military.  May 9, 2013  http://www.pcworld.com/article/2038413/obama-plays-up-3d-printings-military-applications-under-new-manufacturing-plans.html
Obama backs 3D printing again.  May 16, 2013  http://www.prsnlz.me/industry-news/obama-backs-3d-printing-again/
"How 3D printing changed my life"   http://www.salon.com/2013/03/10/how_3d_printing_changed_my_life/